Plano Swimming Pool Plumbing System
Providing Quality Pool Plumbing Services in North Texas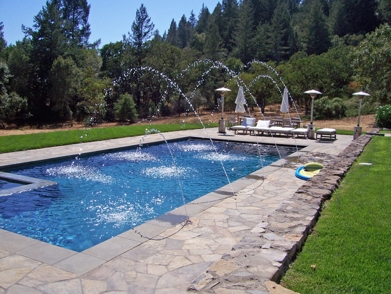 Swimming pool plumbing can be a mess, not to mention confusing. When you are looking for a pool plumber in Plano, Lewisville, Frisco, or the surrounding areas in North Texas, your first call should be to Regal Custom Pools & Spas, LLC. We have the answer to all your pool's plumbing needs.
When Regal Custom Pools & Spas, LLC is contracted to remodel a pool, we will take care of every facet of the pool's construction and installation. That includes installing a separate plumbing system for your pool. We are capable of ensuring that your plumbing lines do the job intended to do and can install pool plumbing that is efficient and requires less energy to run.
Are you looking for professional pool plumbing services? Call Regal Custom Pools & Spas, LLC today at (972) 441-7335 or contact us online to schedule a service with our Plano swimming pool plumbing system team.
The Importance Of Keeping Up With Your Swimming Pool Plumbing System
Pool plumbing is vital to the continued health and well-being of your pool, as solid plumbing allows water to flow in and out of the pool without many problems and also allows the pool water to be filtered cleanly. Whether you're looking to maintain your current plumbing system or are interested in a complete swimming pool remodel, our experienced team can ensure that every aspect of your pool's plumbing system functions properly so you can avoid problems with leaks, structural damage, and poor water quality.
What Type Of Pipe is Used For Pool Plumbing?
The most common piping used for swimming pools is PVC piping. While hard PVC plastic pipes are usually used, flexible PVC is also a type of piping that can be used. Flexible PVC is made from the same material as normal PVC pipe but with surface ribs and plasticizers added to allow bending.
Inspecting Your Plumbing System For a Healthy Pool
We can inspect the following components of your pool plumbing system to ensure they are in good working order:
Pumps
Water filters
Drains
Return lines
Plumbing piping
Valves
Heaters
Contact Our Pool Technicians in Plano Today
When you are having a pool problem repaired or remodeled, you should ensure that the company you have hired is one that has an exceptional reputation and is able to produce high-quality plumbing systems for your pool. Regal Custom Pools & Spas, LLC is that company in the Denton and Collin County areas. With our years of experience remodeling, repairing, and maintaining pool plumbing systems, we have the best quality service for your pool. We will always use high-quality products to create the repairs necessary for your plumbing system.
Our Plano pool technicians will satisfy all of your pool construction needs. Remember that there is one name in North Dallas to remember, and that is Regal Custom Pools & Spas, LLC.