Lewsiville Pool Repair
Expert Pool & Spa Services
Your pool should be a beautiful aquatic retreat that lets you enjoy even the hottest summer days. Your spa should be a private relaxation zone you can use after long weeks. To keep your pool and spa their best so you can get the most use out of them, count on Regal Custom Pools & Spas, LLC in Lewisville.
For decades, we have been the trusted local name in pool and spa services of all sorts. Our pool repair experts can inspect your pool for any issues, and recommend cost-effective fixes. If things are still running smoothly and you would like to keep it that way, then we can perform routine maintenance instead.
Quality Pool Repair Technicians in Lewsiville
It is our goal to provide swimming pool and spa maintenance and repairs that are so good, you can't help but tell your neighbors about us. We have a fully trained and staffed team of pool and spa service technicians. You will even find a licensed electrician on our team for issues related to electrical components!
How to tell if your swimming pool needs repair:
Broken or cracked lights - if the lights in your swimming pool are broken or chipped, it's important to call a professional pool company to deal with the replacement or repair service to prevent electrical shock..
Dirty water - if your sand filter is clogged, your swimming pool will start to appear to get dirty more and more often. Regular pool cleaning is part of good swimming pool maintenance, and if it's professionally done our team can help detect this type of issue before it becomes a problem.
Cracked or chipped walls - it's important to take care of cracked pool walls as soon as you notice them to prevent leaks or yard damage.
Water that won't get warm - your pool heater may be malfunctioning if the water in your pool simply refuses to warm up. One of our professional technicians can help!
Swimming Pool Remodeling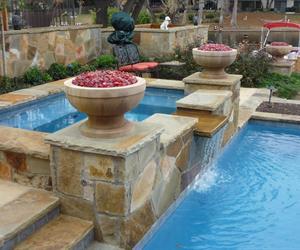 Are you looking to remodel your swimming pool, or even add a spa? Count on the team at Regal Custom Pools & Spas, LLC for quality design and years of experience. During a pool remodeling service in Lewisville, our team can repair natural wear and tear, upgrade essential pool systems, and upgrade the tile.
All of our pool remodeling services take your taste into consideration. We have a variety of tile styles for you to choose from, and can help pick the right option for your home.
The Importance of Pool Maintenance
Most of the worst problems that a pool or spa can encounter can actually be avoided with routine maintenance. Busy, popular pools that see a lot of people each day might need weekly maintenance to stay in usable condition. On the other hand, if you have a private pool that you only use when friends come to visit, then monthly or even seasonal maintenance could work instead. Our team is here to make certain you get the best maintenance plan based on your needs and budget. We are not focused on upselling and getting a quick buck.